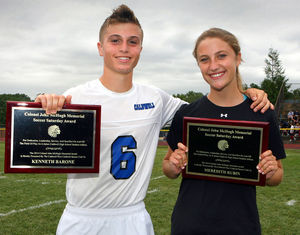 This year's annual Colonel John McHugh Soccer Saturday was a great success on many fronts. It is always a true honor for our school to be able to represent a hero like Colonel John McHugh. A West Caldwell native who graduated James Caldwell High School in 1982 and attended the United States Military Academy, McHugh was a great representative of our school. Colonel McHugh was killed in action on May 18th, 2010.
This year's Soccer Saturday was particularly special.   The Wounded Warrior Project  was a fundraiser that players from both the boys and girls varsity soccer teams organized.   Between a clothing sale, a chipotle fundraiser, and the sale of bracelets, the soccer program was able to make a $1,000 donation in memory of Colonel John McHugh. On top of this great fundraiser, both the boys and girls program were able to secure great victories over their opponents this year.
The boys were able to shut out Glen Ridge this year 4-0. Alex Nicol and Brennan Thiemann tallied a goal each, and Lorenzo Roselle finished the game with two goals. Kenny Barone, Vini Leniar, and Louis Mollet finished with one assist each.
The girl's team pulled out a great 3-1 victory over Mount St. Dominic. Junior Kim Wolf finished the game with one goal, and Jamie Hreniuk was responsible for the other two goals. Overall, this year's Colonel John McHugh Soccer Saturday was another remarkable achievement between the victories from both programs and the donations to The Wounded Warrior Project.