Procrastination, defined as "the action of delaying or postponing something" according to Google, is something that high school students regularly deal with. Whether it be putting off their homework or avoiding their chores, it usually ends up with a feeling of pure horror as they have to make up hours of work in a short amount of time. There does not appear to be a solution to this problem, but perhaps if we find out what not to do, it can be avoided.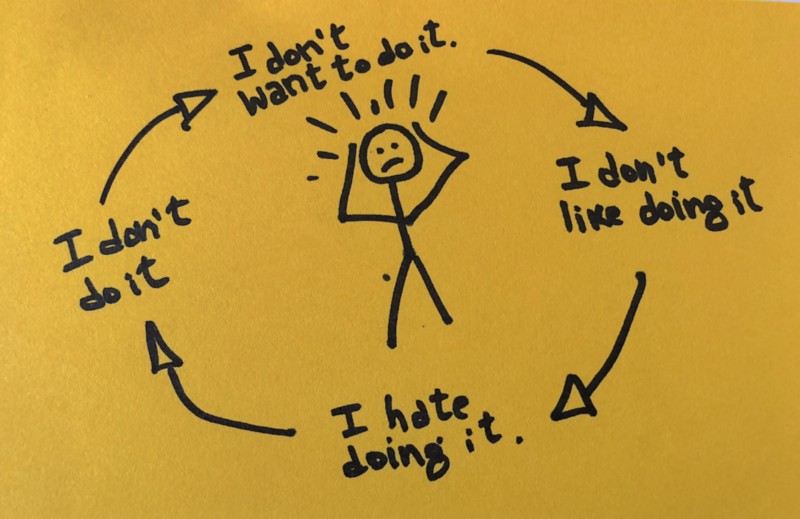 Using Your Phone
The easiest way to start procrastinating is simply by picking up your phone. There are many apps that are available nowadays that can consume all your free time, such as Snapchat, Instagram, TikTok, YouTube, etc. You'll be surprised how one quick little "study-break" to just watch a few of your friends' Snapchat stories can lead to hours of chatting with your friends!
      2. Eating a Snack
Sometimes, while you're doing your homework, you get the urge to have a quick little bite to keep you going. Having a granola bar or eating an apple isn't what causes procrastination, but it's the idea of "hunger" that does. It is very common for people to feel hungry if they are bored, and studying can be a very tedious process. This can lead to not just one snack break, but to multiple snack breaks that can go from 5 minutes to a whole hour!
      3. Taking a Nap
As high school students, we have got a lot of things going on: school, sports, work, extracurriculars, etc. This can lead to a lack of sleep, which makes it even more difficult to do homework or study. It can be very easy to convince yourself that you deserve to take a short 20 minute nap, especially after a long day of school. However, this 20 minute nap can turn into a 2 hour nap if you decide to keep hitting that snooze button! Next thing you know, you're staying up to finish all that homework and the cycle starts all over again!
      4. Listening to Music
Music can be a way to stay focused on your homework, especially if you're in a loud environment. But, sometimes if you listen to just the right kind of music, you'll find yourself getting more involved with what you're listening to instead of your work. This can lead to an impromptu dance session or even a whole concert, with you as the main act.
     5. Doing Nothing
Finally, the last culprit of our procrastinating woes is possibly doing nothing. Sometimes you just find yourself sitting there, staring into space, and not being productive. This usually occurs when the work that must be done is painfully boring, time-consuming, or when you just can't seem to do it. 
Now that we have addressed what possibly causes our procrastination, it is up to us to take a moment of self-realization and put an end to our foolish ways. It is not always easy to find that motivation to do your work, but sometimes we have to understand that if it's not done now, we'll be scrambling to find the time that we wasted while procrastinating. Avoiding procrastination is easier said than done, but with enough steps in the right direction, you can start to break these distracting habits. That said, Good luck to all my fellow procrastinators!