If you could take something that would make you feel connected and happy all the time, would you? If you could pop a pill that makes you likeable instantaneously, and helps you get the girl or boy of your dreams, would you? If you answered yes to all of these questions, then the squip may be for you!  A squip is a supercomputer from Japan that takes over your brain. The squip is a gray oblong pill that anyone can take to become less of a "loser." Its purpose is to tell you what to do to, and it can control your body movements. In addition, your squip is personalized to you, only you can see it, and it takes the form of whatever you wish. But what do you do if it slowly takes away your free will, forces you to push away what you originally valued the most, and threatens to take over the world? This is the question Jeremy must answer in Broadway's New Musical "Be More Chill."
The protagonist of Broadway's "Be More Chill," 16 year old Jeremy Heere (Will Roland), has been an invisible loser all his life. His best and only friend is Michael (George Salazar). Michael is an upbeat stoner who is obsessed with Bob Marley, and one of his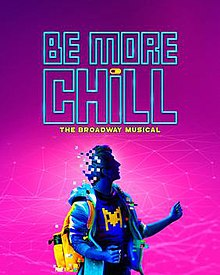 favorite pastimes includes buying old 90s' soft drinks online. Jeremy and Michael are inseparable. All their lives they have played video games together. They continue to try their best to survive high school as dweeby sophomores. One day at school, Jeremy takes a step toward his dream of being noticed by his crush Christine (Stephanie Hsu) by signing up for the after school play. In order to win the love of his life, Jeremy was told to get a squip (Jason Tam). With the support of Michael, Jeremy buys the squip in the back of a Payless in the mall. The squip is activated as Keanu Reeves. Immediately the squip reads all of Jeremy's brain activity and works to help him get Christine. Along the way, the squip slowly veers from the mission, and although Jeremy achieves his wildest dreams, he also loses sight of his friendship and what matters the most to him.
This musical is a fresh take on the modern high school experience. It is incredibly current and incorporates text speak, popular dance crazes, and real problems that permeate the minds of the teens of today. Joe Iconis' lyrics are so comical and catchy. Songs like "Smartphone Hour" are so absurd and entertaining. It comments on the ridiculous of how teens communicate with emojis to convey feelings in this day and age. Also, one of my favorite songs is called "The Pants Song" which is a metaphor for having the courage to help others, but also literally means putting on pants because Jeremy's Dad walks around in his underwear throughout the show. I loved this show's soundtrack because it is a culmination of so many different genres. There are rock songs, pop songs, sweet love ballads, vintage electric music, and emotional melodies. Every song brings something to the table. There are ones with side-splitting euphemisms, ones that are sincere, some that are heartbreaking, and ones that make you want to get up on your feet to dance and sing along. I was in awe of the vocal range these actors and actresses. It is incredible how every single one could flawlessly capture the multitudes of these songs.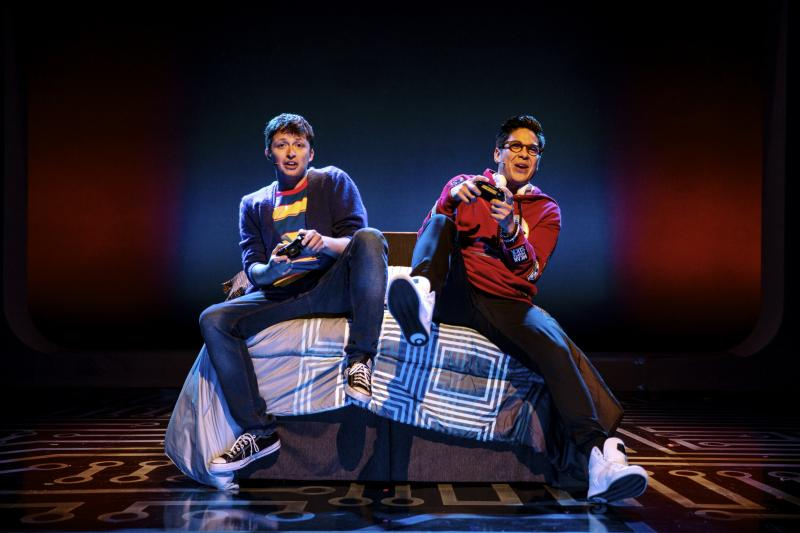 Moreover, the costumes were wildly fun and vibrant. There were bright neon colored colors everywhere, metallic tiny backpacks, and amazing camp-y clothes that perfectly suited the characters' eccentric personalities. For instance, Christine was dressed like a 5 year old girl; she layered her dresses with crazy patterned leggings and wore a jean jacket with tons of silly patches. Her costumes perfectly matched her carefree persona and desire to be a star. For example, throughout the musical, Christine was notorious for her outrageous facial expressions and body movements. She is known as being the most over top whether she is picking a wedgie or birthing a bowling ball. In addition, the squip's costumes was an homage to the black leather duster that Keanu Reeves wore in "The Matrix." The squip's outfit evolves throughout stages of the musical from white pants and a jacket to a mesmerizing ensemble that is essentially a kimono robe and a dress combined. "Be More Chill" has a very small cast, but they use this to their advantage by using hilarious costumes to transform the cast into background characters. For instance, during a scene at the mall, the actress who played Christine transformed herself into an old lady by wearing a gray wig and neon tracksuit while riding a scooter with the license plate that said, "Happiness is Yelling Bingo." I loved seeing the transformations for each scene, it gave me a good chuckle to see the cast take on new secondary characters for a scene and wear ridiculous and awesome costumes.
"Be More Chill" is like nothing you have ever seen before on Broadway. It is blended with elements of sci-fi, romance, comedy, and a coming of age story. This musical's energy is intoxicating. You will walk away feeling like you can do anything in life. The message of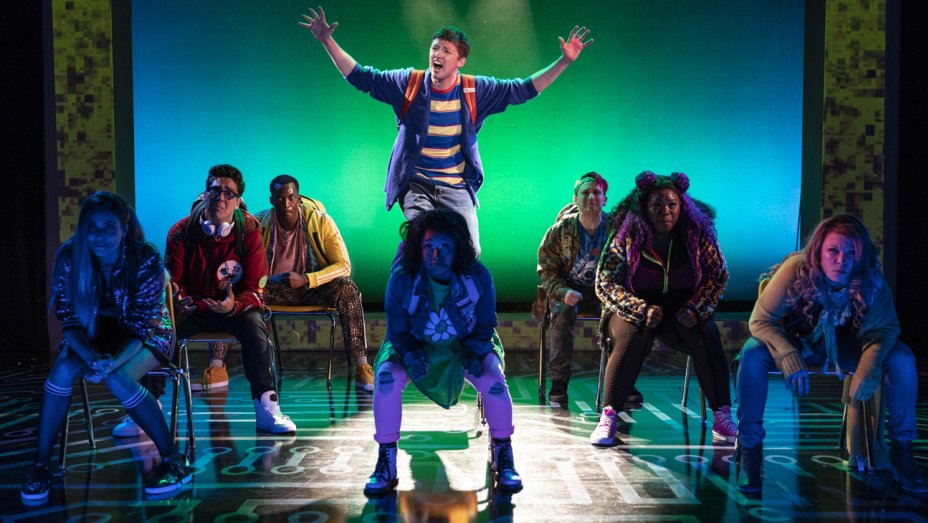 self-acceptance and finding one's path in such a trying time makes this musical so accessible to everyone, but especially teenagers. "Be More Chill" represents teen culture like never seen before. It is a rollercoaster of emotion filled with laughter and the worries of fitting in. I've never seen a musical that is so bold and earnest which encapsulates the whirlwind of what it means to be a teen in a society driven by technology.