Mamma mia, here we go again! The JCHS theatre department's latest show, "Mamma Mia!", was a production met with excitement, enthusiasm and anticipation. The show was directed by Greg Paradis, the director of our school's theatre department, who had worked extremely hard to make "Mamma Mia!" one of the best productions yet. Paradis remarked that "Everything 'fit.' The cast was a perfect powerhouse of passion, the design team generated the world of the musical seamlessly, from the lights to sound to choreography to set to props, the pit orchestra played phenomenally, and the crew was fast, efficient and responsible."
Since the original 1999 musical was adapted into a movie in 2008, "Mamma Mia!" has been extremely popular and well-known for its iconic songs by ABBA. Students of JCHS were all thrilled to see the show this year, as our school was one of the first high schools to receive the rights for the musical. The show was directed by Greg Paradis, the director of our school's theatre department, who had worked extremely hard to make "Mamma Mia!" one of the best productions yet. I was extremely excited to see the show this year, and decided to ask a few members of the cast and pit about it before going on opening night.
I first talked to Sam Mulick, who played Sam, one of Sophie's potential dads. I had asked him to describe his character, to which he replied "[Sam] is very assertive and sure of himself. Throughout the show he finds out a lot about himself, exploring his relationship as Sophie's dad and with [his relationship] Donna." When I asked about what he loved about the show this year, Sam passionately explained that he hoped "people will be surprised at how in depth the character work is and how advanced all the acting is for a high school production." My last question was which song was his favorite to perform, and he revealed that "SOS" was his favorite "because it's a really intense number with really fun vocals and choreography." He continued that it's also his favorite since he is able to "connect with Zoe who plays Donna."
Later, I spoke with Vance Ceccon, who played Harry. He described his character to be "really gentle and awkward, and also very caring." I also asked him what he loved about the show this year, Vance told me that "the energy and the music's good" making it extremely fun to perform. When I asked about his favorite song, he told me that "Our Last Summer" was his personal favorite, but "Waterloo" is also up there.
I also had the pleasure to talk to the "Dancing Queen" herself, Zoe VanderGast, who played Donna. She described her character as "strong and independent, while having vulnerable sides which are uncovered throughout the show." Zoe also told me that she truly loved the dynamic of the show this year, describing her cast as "so talented" and explaining how her "co-leads are so professional and amazing." She hoped that people would love "Mamma Mia!" too, calling it "a hell of a production." Zoe also explained how "the set is expertly designed by Chris Altonjy, the choreography arranged by Mariel Letourneau, and the pit conducted by Daniel Mullens." Finally, Zoe told me all about her favorite songs in the show, with "Money, Money, Money" being one since "it has a great riff and is so much fun to bop to!" But ultimately her favorites to perform were "Slipping Through My Fingers" and "The Winner Takes It All," as she described them as "jam-packed with multi-dimensional lyrics and emotions that just unload Donna's conscience."
Lastly, I had a fellow friend speak to Portia Ali, a senior who was involved in the pit. She was asked how she feels a real student orchestra contributes to the show, to which she responded that they "have a connection to the people in the show." She also described it as "more like a group of friends coming together who happen to be playing music."
Personally, this show has been my favorite spring musical so far, due to the fun storyline and truly unforgettable experience I had. I made sure to keep everyone's words in mind as I went to see the show on opening night.
Kate Glennon as Sophie was amazing, as she made Sophie such a lovable character, and her voice is stunning, especially in "I Have a Dream" and "Under Attack." Maddie Chelak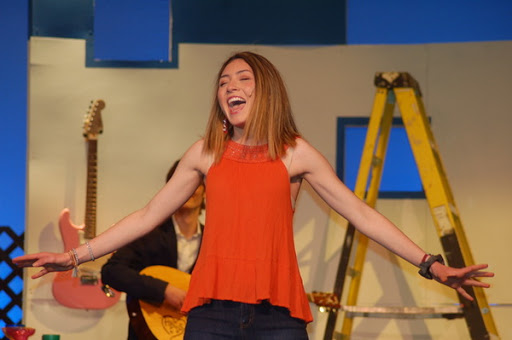 played Lisa and Mai Chiaet played Ali, and both of them were amazing in their performance of "Honey, Honey." I felt that Zoe VanderGast playing Donna was one of the best decisions ever, as she gave the character so much depth and emotion, specifically in "The Winner Takes It All." Jess Rizzo played Tanya wonderfully, and never failed to make me laugh, especially in "Does Your Mother Know." Giulia Russo played Rosie, and made the character so fun and lovable. Her performance in "Take a Chance on Me" with Dante Zazzera, who played Bill, was definitely one of my favorites. Sam Mulick was extremely passionate with his role as Sam, and I really enjoyed the song "SOS" with him and Zoe. Vance Ceccon's role as Harry was great, as he transformed Harry into one of my new favorite characters, and I loved his performance of "Our Last Summer." Lastly, Jake Friedenberg played Sky extremely well, and he truly made me laugh during "Under Attack" when he came out in a wedding dress.
I loved the set for the show, especially with the rotating aspects, as it transformed the show for me. The lights were also amazing for this show, as they corresponded with the music, ultimately bringing in the visual and auditory aspects together. I had an overwhelming amount of favorite songs, as everyone performed with such passion. But my favorite song of the whole show has to be "The Winner Takes It All," as Zoe sang it so beautifully and incorporated an insane amount of passion. Everything about that song was flawless, and it brought a few tears to my eyes because I could really feel the emotion of Donna. In all honesty, this song was never one of my favorites in the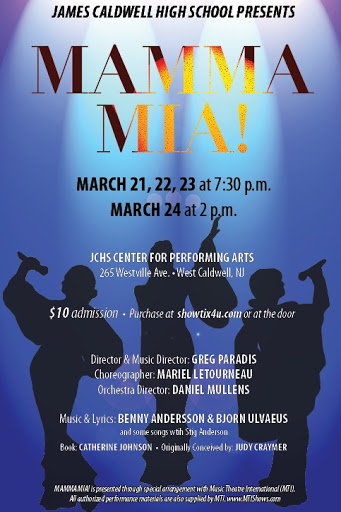 soundtrack, but Zoe's performance has made it one of my top favorite songs of all time now. My other favorite songs include: "Money, Money, Money"; "Mamma Mia"; "Dancing Queen"; "Under Attack"; "One of Us"; "Does Your Mother Know"; "Our Last Summer"; "Slipping Through My Fingers"; and "Take a Chance on Me."
Overall, "Mamma Mia!" is truly one of the best high school shows I've ever seen. Every single member of the cast, crew, and creative team poured their hearts out to make this production unforgettable. I honestly cannot do the show enough justice with my own words since it was such an incredible experience. To everyone involved in the show, "Thank You for the Music," and thank you for making this my favorite JCHS production.