Winter Track is very similar to Spring Track with some very minor differences.  The primary difference is that all events take place on a 200 meter indoor track instead of the full 400 meter outdoor track. Moreover, due to track size constraints, the 55 meter dash replaces the 100 meter dash, 55 meter hurdles is the only hurdling event, high jump is the only jumping event, and shot put is the only throwing event.   
James Caldwell High School's Winter Track Team had exceptional performances all around in their Sectional Championships. This year, Caldwell had two runners qualify for Group Championships, where they and the top six other fastest runners from each group will go on to compete in states. Junior, Justin Hayden, placed fifth by running his personal best in both the mile (1600 meter), with a 4:40.04, and the two-mile (3200 meter), with a 10:15.69.  Considering he only has one season of Spring Track and Cross Country of running experience, Justin shows great potential for Spring Track this year, where his average times are expected to decrease a whole six seconds solely from running outside as opposed to inside. Junior, Robin Collura also managed to qualify, placing 5th in the girls half mile (800 meter), running an incredible 2:28.33. Her times have been consistently improving throughout this year, showing incredible promise for an astounding future in track.
Although only two from Caldwell qualified for Groups, both Senior, Christian Badach, and Sophomore, Kyle Teterskis, had incredible performances that almost resulted in their qualifying. Kyle, Caldwell's best high-jumper, cleared 5'4", clearing both 5'0" and 5'4" first try.  However, because he had one error and did not clear 5'2" first try, his opponent took 6th place because he cleared the same final height of 5'4" without any errors. Although Kyle is upset by his loss, he is still only a Sophomore competing against Seniors and has great hope for his next two Winter Track seasons, in which he will hopefully qualify and progress to Groups. Christian Badach, in a very similar fashion, missed sixth place by a hair. Losing his half mile (800 meter) race by only a third of a second, everyone from Caldwell believed he had beaten the other runner.  Despite losing his race, Christian finished with a 2:05.08, his personal best, and anyone watching his legs giving out and reddened face could tell that he was truly giving 110%.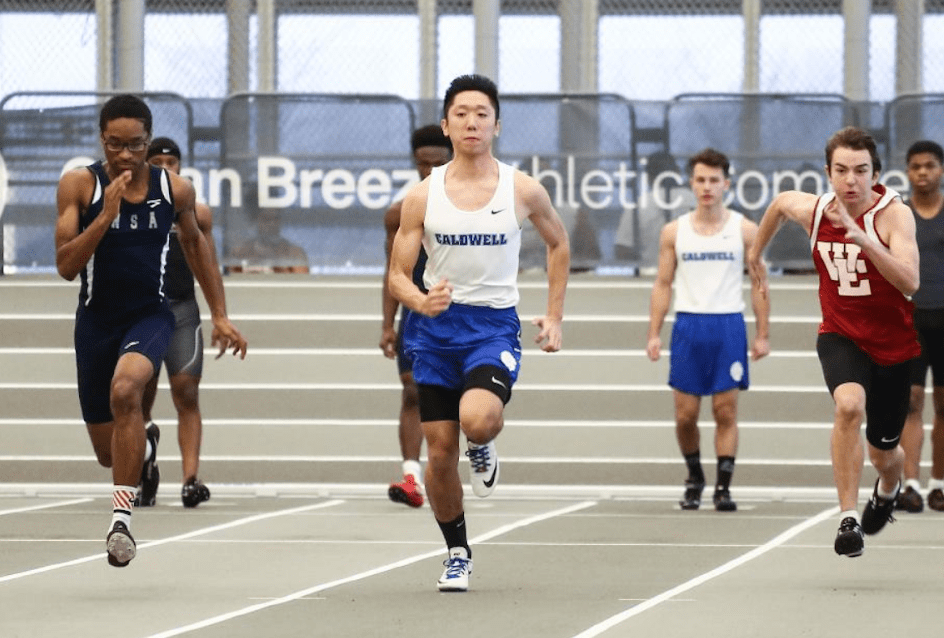 The possibly most entertaining portion of the track meet could be found in the races of Nicholas D. Chan. After completing his 400 meter dash with an unimpressive 1:03, it was discovered that the referees made an error and Nick would have to race again.  Nick was ecstatic, claiming "God wouldn't let me have that time as my final race. I needed to race again." Nick then proceeded to race with all those in his heat again, running a much more impressive 1:00.01. However, when running his 55 meter dash, another runner happened to step into Nick's lane, resulting in his time being voided.  Nick was thus forced to run another 55 meter dash by himself this time, ending in Nick running each of his races two times.