Caldwell Girls Soccer has had a struggling 2017 thus far, only coming away with five victories out of their first 13 games.
Allison Frank, one of Caldwell's prolific forwards, believes that the reason for the loss of momentum and inconsistency of the team could be "from the string of injuries the team sustained." Caldwell's "best defensive and offensive players had been hurt at some point during the season." Players like Emily Blankenship, who has three goals and 11 assists on the year so far, suffered an ankle injury. Not only that, but Vitoria Rebimbas, a freshman, who has six assists on the year, fell to a hip contusion. One of the most serious injuries this year has fell upon Amelia Nicol, who suffered a torn ACL, leading her to miss majority of the season. Also, Frank has noticed that Leanna Rebimbas "was being double or even triple teamed when she had the ball," with Leanna being "such a lethal striker" on the pitch.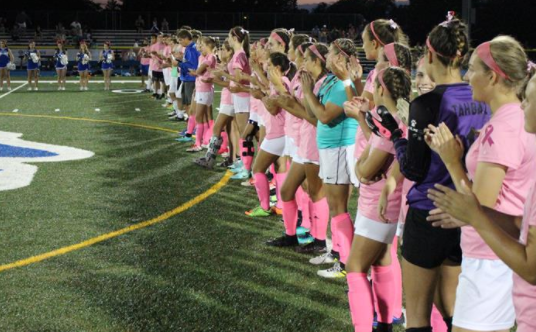 The Blue and White began the 2017 season with two defeats, one to Montclair Kimberly Academy 2-1 and the other to Montclair 4-3.
The Chiefs bounced back from these two losses with a monstrous victory, beating Science Park 12-3. Leanna Rebimbas scored an impressive five goals. Juniors, Emily Blankenship and Allison Frank bagged two goals a piece.
After losing to Livingston 2-0 the following game, Caldwell came back with a vengeance in the next two games, beating Cedar Grove 8-0 and Newark East Side 8-2. In those two games, Rebimbas scored a total nine goals.
Caldwell continued to display their attacking abilities, knocking off Verona 4-0 and Columbia 4-0. Rebimbas continued her excellent form, netting a total of seven goals in those two games. In the Chief's four game winning streak, the team produced 24 goals and only allowed five.
Unfortunately, Caldwell would go downhill from there. After starting off the year 5-3, the team would lose their ensuing five games. Losses would come at the hands of Bloomfield, Nutley, West Orange, Mount St. Dominic, and Glen Ridge. In that five game losing streak, Caldwell did not scored more than one goal.
Leading the team in goals is Leanna Rebimbas, with an outstanding 24 goals. Allison Frank comes in at second with four goals, with various other players like Emily, Sarah, and Megan Blankenship with three goals. As well, Victoria Rebimbas knocked in three goals for the side. However, goals do not come without a skillful passer, and Emily Blankenship fills that role perfectly. Blankenship is leading the team with 11 assists, and Victoria Rebimbas comes in behind her at six assists. Sophomore goalkeeper, Makeena Tahbaz, who is listed as one of the top 75 sophomore females for soccer in New Jersey, has kept out 154 of the shots that came her way.
Caldwell is near the bottom of the SEC – American conference, with their overall record of 5-8. The Chiefs look to climb up the standings as the season dwindles down to its final weeks.