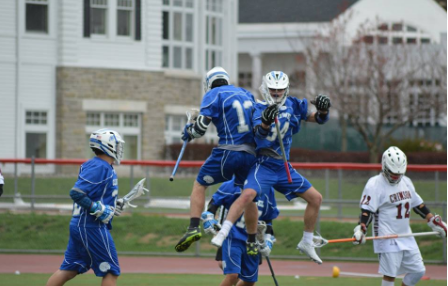 Junior James Miller and Senior Dan Fano look to continue the success the Chiefs have had the past few years. 
The Caldwell Boys Lacrosse team is coming off their best season in program history after they made the Group 1 North State Final. After losing key starters from last year's team such as Matt and Chris Maddaloni, Ryan Schafer, AJ Curtiss, and Tom Bryant, the Chiefs looked to retool for a run in the their new Group 1 South home. Returning stars such as James Miller, Frank Genello, Joe Valenti.
Senior Frank Genello looks to keep improving in his fourth year as the Chiefs Goaltender  and Peter Vicchio will look to keep the team headed in the right direction. The addition of Freshmen Kyle Ross and Ben Kopen will also aid the Chiefs this season as well as Senior additions Dante Capozzoli and CJ Hapward. The coaching trio of Head Coach John Timan and coaches Kyle Huff and Nick Esposito becomes a quartet as they add a third former player to the staff this year in Trevor McLaughlin. The Chiefs season begins Wednesday March 29th at Madison who the Chiefs narrowly lost to this year. This game could be a preview of the Group 1 South final and should be a good one.