My morning on January 21st began at 2:45 in the morning, when my mother and I left for Montclair to take a chartered bus to Washington D.C. to attend the Women's March on Washington. There were to be 18 buses that left from Montclair, two from Montclair State University and 16 from Montclair High School. Even then, at the strict 3:50 AM departure time, I hadn't quite fully comprehended the vast scope of the march, even with the vast amounts of women donning signs and "pussy hats."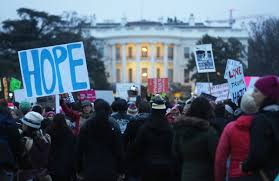 Initially the movement was completely grassroots, started by a group of women who believed that the outcome of the election was unjust and that the Trump administration would have detrimental effects on women's rights. The first creator of a facebook page for the event, Teresa Shook of Hawaii only expected a few people to show up but soon the quiet plea became a public outcry with over 200,000 people committed to attending the march just days before.
On the red eye bus down to the nation's capital, I gradually realized the scope of people that were marching when we went to a rest stop in Wilmington, Delaware. Buses filled the parking lot by the masses and it was impossible to get a coffee from the Starbucks inside let alone even go to the bathroom. A few of my friends were driving down and were a mere half hour's drive behind me. Whilst attempting to conserve my phone's battery, I corresponded with them about traffic and a broken down bus in the middle of the Susquehanna River bridge. The closer the bus got to Washington the more obvious it became that the estimate of 200,000 had to have been miscalculated. Bus station parking lots were being closed off due to overcapacity and people were walking everywhere with their hats and signs. I overheard one woman on my bus saying that she drove the entire day prior from Ohio to New Jersey to take one of these buses, it was in that moment that I realized how important this march was going to be.
When we were just miles away from RFK Stadium, one of the organizers came on over the loudspeaker on our bus. She reminded us of our rights and how there will be a police presence. One thing she said that really stuck with me for the rest of the day was that even though there were feelings of solidarity throughout the day, we were not permitted to lock our arms together as that action is seen as resistance by the police and they reserve the right to break it apart and make arrests. As a white woman, I recognize my privilege in dealing with the police. I know that I will never be arrested for failing to use my turn signal like Sandra Bland, a 28 year old black woman who was found dead in her jail cell soon after her arrest. With events like hers and many others regarding police brutality I felt nervous about the police presence, but I did not allow the fear to overwhelm me.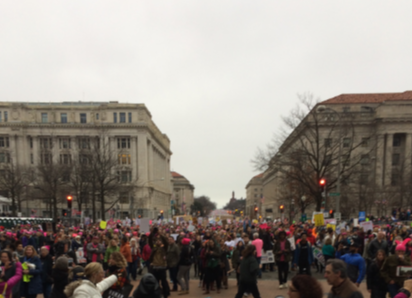 When the bus finally parked in between a Wendy's and a McDonald's the day was still young and and the Capitol building was a few short blocks away. Gradually as we got closer to the heart of the march more and more participants joined the queue there; people in buses and cars honked in solidarity and I was once again reminded how significant this moment truly was.
The capitol building was still blazon with American flags from the inauguration of the 45th president the day prior, to many it was a grim reminder of why we were there. Much of the day was filled with milling around the national mall, many people unsure of where to go and what was going on; everyone's best bet was to go with the wave of other moving people, for me that wave of people happened to be a group of marchers from Hawaii and a drum circle, a seemingly epitomic moment of the day. About an hour was spent on the national mall greens itself, filled with chants that parlayed many messages that were more than just for women such as anti-homophobia, anti-islamophobia, and anti-Donald Trump. At some point the hoards of people realized the route we were supposed to take for the march to actually commence, getting to it though was comparative to watching cattle being herded into a different corall.
The march itself was slow with people everywhere and police as well. Strangely, though, I didn't feel threatened by the police's presence. The Washington D.C. Police Department was very kind to all the protestors smiling and taking pictures and having conversations with others, a drastic difference from protests the day before where storefront windows were broken, cars set on fire, and nearly 200 arrested. The only time I felt threatened was when a group of anti-choice protestors decided to set up station right past the new National Museum of African American History and Culture, but even with their mic-pac pacs and failed attempts at voicing their own opinions, the outcry against them was even greater. Hundreds of people at once chanting "my body my choice" while a few other protestors made a chain around them so no one could hurt the anti-choice ralliers. Even though I may not agree with the anti-choice protesters, I have tremendous respect for those who protected them from harm's way, showing that their lives were important as well.
At some point, there were so many marchers that the entire downtown of Washington was put into gridlock as the amount of marchers had cascaded into the streets. I had to pause for a moment to think about how many people were there at that moment. People could be seen for blocks on blocks, to the point where people were no longer themselves but a ripple in the wave. From the buildings people watched the madness that ensued, but it wasn't even madness it was a form of serenity for me. At James Caldwell it's easy to say that people's opinions vary which is fine, as people are all entitled to believe what they may. On many occasions though, I have not felt completely secure in voicing my own opinions, in fear of what rhetoric might be returned. As I walked through the streets I felt understanding and acceptance in the sense that I was where I belonged, where no one would judge me for my sign that was pro-transgender rights.
In that time spent walking through the streets with my mother and her former coworker, a woman came up to us saying she liked my mother's friends hat which was one from Clinton's election merchandise, something that can't get much wear out of it these days. The woman also donned a Clinton hat and after we complimented her she remarked, "Thanks! She's my sister in law!" The three of us were astounded but carried on conversation in the middle of 14th street with Megan Rodham. She told us how she was so glad I came out to march with my mother. She told me her experiences in life and when she went off to college, she went where her boyfriend went to Virginia Tech; Virginia Tech didn't even offer her desired major in nursing. She said that she was glad that very few people followed the same path she did anymore.
After waiting in line to get a hot dog for a good 30 minutes while others pushed through me to get to the street, it was finally time to make it back towards the bus. The rest of the day I had a comforting warm feeling in my stomach. It may have been from the well deserved hot dog or the fact that I felt like a difference had been made. The grand total of people that marched on that blustery saturday had topped off at around 500,000 marchers, the largest in the nation and thousands more than actual attendees of the inauguration. As said, on the 20th of January there were 200 arrested due to violent acts of protests.  A day later, not a single arrest was made in Washington, proving that a peaceful and effective protest can exist on such a grand scale. Many people marched for their own reasons whether it be in opposition to the new president, black lives matter, or simply an outcry for women's rights, the message remained constant throughout the struggle that we were all stronger together.